BIRTH ANNOUNCEMENT STORKS
Includes a personalized keepsake bundle
7 day rental $90/ 14 day rental $160
STORKS FOR MULTIPLES
Includes a personalized keepsake bundle for each sign
twins 7 day rental $160
for triplets and more, please call for a quote
BABY SHOWER STORKS
The Shower is Here!
1 day rental $65 (does not include keepsake)
SIBLING STARS
A personalized star made especially for big brother or sister
$25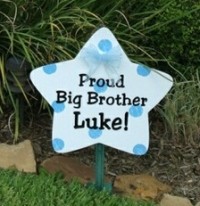 Dog Bone
A Personalized Welcome Home from your Furry Family Members!
$25
MESSAGE STARS
We Love You! or Welcome Home! Stars
               $15 (is not a Keepsake)
ANNOUNCEMENT BUNDLES
Perfect for parents who don't have a yard. Also great for the office or hospital door.
Personalized keepsake bundle $45
Delivery and Set-up is included for all orders that are within a 10 mile radius of League City, Texas.  Deliveries outside of 15 miles will be subject to an additional delivery charge.